Limo Hire or Party Bus Hire for Christmas?
Christmas is fast approaching, and you naturally want this year's celebrations to the best yet. Partying with friends, family, and colleagues during the weeks leading up to December 25th is undoubtedly one of the top items on the agenda. A limo hire or party bus hire could be the ultimate solution.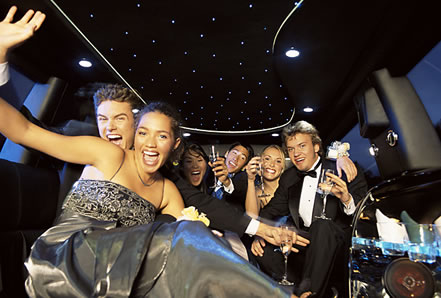 Star Limousines has a variety of vehicle hiring options to ensure your Christmas party is on the road to success. Here are just some of the reasons why.
Limousine Hire For All Occasions
When attempting to organise a Christmas party for your friends, family, or workplace, it's imperative that you choose a suitable option for all. This means factoring in different age groups, personalities, cultural backgrounds, and more. Whichever event is deemed best for your festive celebrations, a professional limo hire will provide the perfect solution.
With limousines and party buses for groups of varying numbers available for the day or night, Star Limousines are proud to help groups throughout Brighton, Eastbourne, Tunbridge Wells, Crawley, and the surrounding areas. Some of the events we cater for include;
Limousine hire for clubbing nights,
Limousine hire for private company parties,
Party bus hire for theatre trips and pantomimes,
Limousine and party bus hire for city tours,
Party bus hire for sporting events,
And more.
Whether it's celebrating the festivities with a small group of friends or arranging an event for your company, Start Limousines has you covered.
Travel In Style
Knowing that you can hire a limousine for the festive party is one thing, but confirming the reasons for doing it is another altogether. Hiring a limo for your pre-Christmas event is the ultimate way to travel to your event for a whole host of reasons. This will ultimately establish the perfect foundations for the day or night.
Some of the chief benefits to be gained from taking this approach are;
All eyes will be on your group as you rock up to the venue,
The journey itself brings everyone together rather than forcing them to take separate journeys,
Actually save money due to the fact you all share the journey,
Gain the opportunity to socialise during the trip itself and return,
Give people the VIP feeling by travelling in a luxurious and ultra-modern vehicle.
Special occasions call for special treatments and limo hire in East Sussex or West Sussex ticks the box in emphatic style. Whether it's a midweek evening event or a Saturday afternoon celebration, we can provide the vehicle and driver to suit your needs.
Overcome The Challenges Of Winter
Limousine and party bus hiring is popular throughout the year, but can be especially useful during the pre-festive period. Aside from being a great way to get the celebrations started in style, it is often the most practical solution – and not only due to the finances and getting everyone together for the journey.
Hiring a limousine additionally helps you sidestep several issues, with benefits including;
Avoid the adverse weather and prospect of being left in the wet and cold,
Enjoy a door-to-door service rather than walking in the dark,
Know that schedules will be kept instead of being ruined by public transport,
Avoid the crowds, ensuring that the travel aspects are smoother than ever,
Know that you'll reach the destination looking and feeling great, not soaked.
Apart from anything else, you'll know that you've made the best choice for yourself as well as the other members of your group. What more could anyone ask for?
The Ultimate Gift
Limo hire isn't only a suitable option for your pre-Christmas festivities. It can also serve as a great gift for a loved one, especially when you're looking for something unique that can actively improve another event they have coming up in 2020.
A gift voucher from Star Limousines can be redeemed for any event, and is a particularly popular option for;
Birthday parties, especially milestones such as 18th, 21st, 40th bashes,
Prom or graduation events,
Business awards ceremonies,
Stag dos and hen nights,
Organised trips to local attractions including music venues.
While the VIP feeling of riding in a limo isn't an everyday experience, it can be enjoyed in a vast array of events and situations. When looking for the perfect present for someone that has everything or is notoriously difficult to buy for, a limo hire gift card can be the perfect option.
Book Your Limo Today
To find out more or book your limousine hire or party bus in Brighton, Eastbourne, Tunbridge Wells, Crawley, or any other area of East or West Sussex, give us a call on 01435 897299 or ask for a quote today.
Published Date:
November 12, 2019