50% extra FREE on Kids Party Packages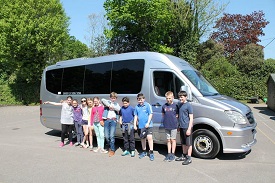 Throw the most awesome summer bash with our Limousine hire packages! Start with an hour's joyride around town, sipping an iced soft drink and partying to the likes of Bieber, Beyoncé and all your favourite tunes on the karaoke machine, before finishing at your chosen party destination. Any new booking made for off peak dates, Sunday to Friday lunchtimes, until 1st September, will receive 50% additional hire time absolutely free….
We can also colour co-ordinate the Limo interiors, Pink for girls and Blue for boys, to include Helium balloons, decorations, bows and ribbons, for an additional charge.
Offer valid 21st June to 1st September 2016 on off peak days only, (Sunday to Friday lunchtime) excluding bank holidays, other key prom dates and peak times (All day Saturday and Friday lunchtime to Friday evening).
Available to new bookings only, upon receipt of a £100 non-refundable deposit by card.
Hire time will be added from first collection and cannot be split into multiple journeys, for example 60 minutes booked will receive 90 minutes in total from first collection to last drop off. This time also includes photos, which your chauffeur will be happy to assist with.
Complimentary soft drinks will be provided for all bookings.
Published Date:
June 24, 2016