A Special Day with Star Limousines
When Star Limousines learned about the opportunity to provide our services to a young boy, who was sadly experiencing a terminal illness, and his family, we jumped at the chance. It's occasions like these, when you have the chance to do something massively positive, that are the most important and special.
Leo, aged 6, his mother, brothers, aunt and cousin, were all treated to a special day out thanks to the Make-a-Wish Foundation and we had the honour of picking them up and driving them around that day between the various locations they visited. Here's the story of the day.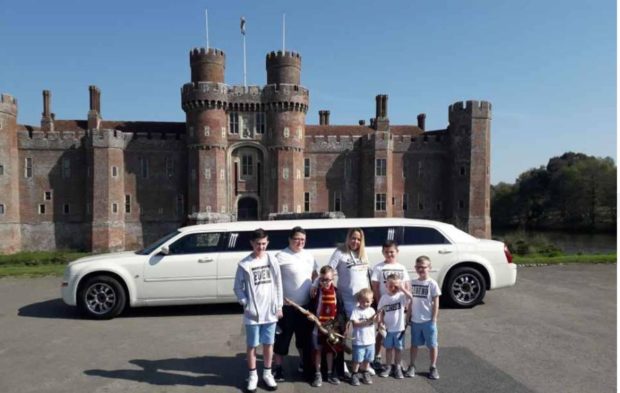 Working with Make-a-Wish Foundation to Make a Child's Day Special
We worked in cooperation with Make-a-Wish Foundation, which is a wonderful charity committed to helping terminally ill children have experiences that wouldn't otherwise be possible. It was an honour to work alongside them providing this special experience to Leo and his family for the day.
It's not often we get the chance to provide our services in this kind of context, but it was a wonderful experience and one that we are proud to have been a part of. Seeing Leo and his family having such a great day and being able to play a small part in it is something that we will never forget.
We Picked Up Leo and His Family for a Ride in a Star Limousine
The day was Saturday 20th April and we started by picking up Leo and his family from the Premier Inn in Eastbourne Town Centre where they were staying. As well as Leo, aged 6, his mum, auntie, all four of his brothers and his cousin came along for the ride. It was a pleasure to meet them all and welcome them into the back of our limousine.
They were all very excited and eager to start the day, as were we. We know that kids love the experience of getting into a limousine for the first time and enjoying the experience of being driven around like a celebrity. Seeing their reactions and enjoyment is always one of the best things about the job.
A Visit to Herstmonceux Castle
Once everyone was in the limo, we began the journey and the first place we headed to was  Herstmonceux Castle. It's a castle that dates back to the 15th century and Leo and his family were about to spend the morning exploring it. It's a stunning structure and there are some fantastic grounds and gardens too.
This is where we dropped them off and left them to have fun seeing the castle and exploring the grounds. After they'd spent time doing that, we picked them up and contined the journey because it certainly wasn't complete yet.
Next Stop: Rye and a Witches and Wizards Event
After picking the family up from the castle once more, we set off with them all in the back of the limo. The next stop of the day was Rye. In particular, we were heading to The Mermaid Inn in Rye where there was to be a Witches and Wizards Event that Leo and his family were about to attend.
We arrived there in the early afternoon in time for lunch and they went on to enjoy the event. What child wouldn't enjoy spending the afternoon at a Witches and Wizards Event? It was a lot of fun and after they had all had their fun casting spells and practising their wizardry, it was time to collect them from the Mermaid Inn.
Another Ride in the Limo as We Took Them All Back to the Hotel
After a long day, everyone was keen to have a rest in the back of the limousine once more. And they all enjoyed the experience being in the limo and all the glamour that inevitably comes with it. Then we drove the family back to the hotel in Eastbourne where we had started the day earlier that morning.
By the time we got back to the hotel in the evening, a fun day had been had by all and we parted ways with Leo and his family for the night.
It was an honour to be a part of Leo's special day. If you want to find out more about what we do here at Star Limousines, plenty of information is available on our website. And you can get in touch with a member of our team if you're interested in using our services.
Published Date:
May 16, 2019