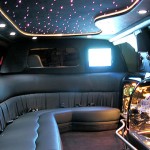 This Ford Excursion limousine is often mistaken for the Hummer H2. It is available in white and
accommodates 13 passengers. It features a CD player, 3x flat screen TV's, 1.5KW sound system,
ice  chests, champagne wells, champagne glasses, star-gazer ceiling, full fibre optics in the ceiling and bar area, with colour-changing neon lights. Remember, all our limousines are supplied with a fully stocked  bar – free of charge.