-
30
Jun
Hi there, My partner booked a limo for my 30th and it was last night. Seriously the best night I've ever had – how wonderful you all are!!! I was wondering how I can go about writing you a testimonial for your website, but also maybe a review for any other marketing you do? Thanks […]
Hi there, My partner booked a limo for my 30th and it was last night.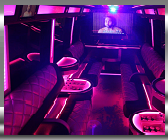 Seriously the best night I've ever had – how wonderful you all are!!!
I was wondering how I can go about writing you a testimonial for your website, but also maybe a review for any other marketing you do?
Thanks in advance,
Rach